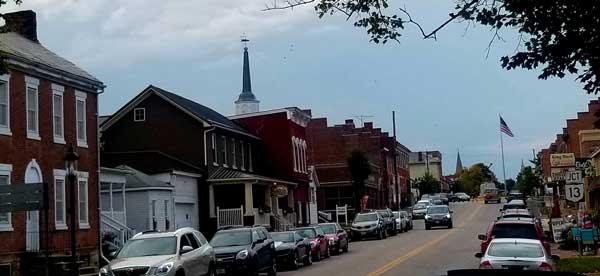 Lancaster Furnace & Air Conditioning
Quality HVAC Services in Somerset, OH
Lancaster Furnace & Air Conditioning is proud to serve the residents of Somerset, OH! If you're located in Somerset, OH, and looking for quality Heating, Cooling, or Indoor Air Quality services, choose us for your next repair, maintenance, or installation needs! We service all brands of HVAC equipment, no matter how old. We're the experts in furnace repair, A/C maintenance, heat pump repair, humidifier installation, tune-ups, and much more. Schedule services today!
Getting to Know 
Somerset, OH
Located in Perry County, Ohio, the Village of Somerset has a population of around 1,450 people; it is roughly 10 miles north of the Perry County seat, which is New Lexington.
The oldest Catholic Church in Ohio, Saint Joseph Church, is located just outside the village along State Route 383. In 1810, settlers from Somerset, Pennsylvania, established the village and named it in honor of their home; the location was along Zane's Trace, which is the midway point between Zanesville and Lancaster. Seven years later, Perry County was formed out of the land from Muskingum, Washington, and Fairfield counties. In 1819, the county built its first courthouse in Somerset. Ten years later, a permanent courthouse was built on the town's square.
Then, with New Lexington growing in size over the years, between 1851 and 1859, the state legislature passed three laws to move the county seat to its current city, however not after moving back and forth because of elections and a decision by the Supreme Court of Ohio.
The old courthouse was leased to Somerset to be used as the town hall.
We're the HVAC Experts in
 Somerset, OH
At Lancaster Furnace & Air Conditioner, your comfort comes first. If you're searching for an HVAC professional, we have certified Heating, Cooling, and Indoor Air Quality technicians who will get the job done in Somerset, OH! We can tailor a variety of solutions to suit anyone's needs and budget.
Our company cares about our customers, and we're excited to serve the people of Somerset. We pair our cutting-edge products with superior customer support to leverage the most value at the most competitive rates for our customers. We also have fast and easy finance options and special online deals. Because of all this, we have established ourselves as a reputable and preferred HVAC company of choice all across Ohio.
On any job, any day of the week, our HVAC service vehicles show up to your door promptly, as scheduled, always calling ahead 30 minutes to notify you when we are en route; these vehicles are always fully stocked and outfitted with all the latest HVAC tools and equipment using the latest technology. They carry a wide range of HVAC system filters, replacement parts, tools, and much more. 
We look forward to making a difference in your home. Schedule services with us today! We're available by phone at (740) 625-2320, or you can shoot us a message by submitting our contact form.