Thermostats in Lancaster, OH
Control the Temperature

 in Your Home
With their cool features and convenient remote accessibility, smart thermostats, and Wi-Fi thermostats are a great addition to an existing HVAC system. Smart thermostats and programmable thermostats help you conserve energy, which reduces cooling and heating bills. Because their technology is so state-of-the-art, they provide superior control over your home's temperature and overall air quality along with superior convenience. If any of this interests you, we would be more than happy to discuss some of the various smart, energy-efficient thermostat options we offer Lancaster area residents.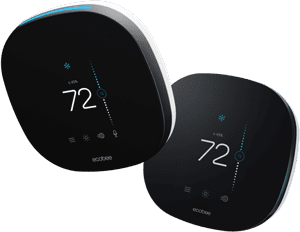 Smart Thermostat Benefits
Control temperature settings from your smartphone

Improving Indoor Air Quality with
Smart Thermostats
Learn more about how a modern Thermostat can make a difference in your home and improve the quality of the air you breathe daily.
One simple solution to maintaining your heating and cooling system is to adjust your thermostat temperature according to your habits, preferences, and the weather. The closer your thermostat setting is to the outside temperature, the more you'll save.
Installing a programmable thermostat in your home will let you run a scheduled heating and cooling program without having to remember to manually change your settings during the day.
When programming your thermostat, just take into consideration your daily schedule. When it's cold, do you like to sleep in a chilly house? If you like your home cooler at bedtime, set your thermostat to a lower setting about an hour before you actually go to bed. Prior to waking up, you might want to set the thermostat so the heat comes on approximately two hours before you actually get up so the house is nice and cozy You can have all of this power and more when you install a smart thermostat!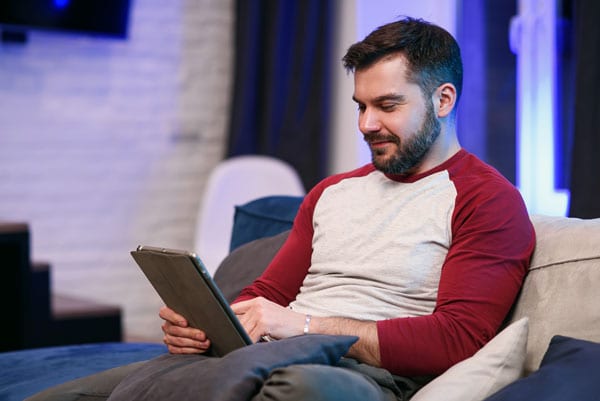 How to Properly Set Your 
Thermostat
Maybe you already have a smart thermostat in your residence. Are you setting or programming it properly?
1.) Select 'Heat' or 'Cool' Settings
If your home has central heating and cooling, then you most likely have a central thermostat to control it. Thermostats, whether programmable or not, will have many similar settings, including fan, heating, and cooling options.
2.) Turn on the Fan
With fan options, you will most likely have "on" or "auto." By choosing "on," you will engage the fan on your system to simply blow air. The fan will run for as long as the "on" option is engaged. The "auto" option will only engage the fan when either the heat or air conditioning turns on and needs to be circulated.
Many people use the "on" option simply to flush air out of a house—if something burned while cooking and you want to circulate enough air to clear the smell, for instance. Otherwise, it's an energy waster.
3.) Set Heating or Cooling Temperature
The suggested temperate to set your thermostat for during warm weather is 78 degrees (F) when you are home. If you will be out of the house for four or more hours, consider raising the setting so the cooling system only comes on if the temperature tops 88 degrees (F).
Thermostat settings for the winter should be adjusted if you are home or away during the day. You can save energy and keep your costs in check by keeping your thermostat at 68 degrees (F) during the daytime.
4.) Program your thermostat
Refer to the manual to program it properly. Most programmable thermostats are able to automatically adjust the heating temperature in your home up to six or more times per day. You can also manually override the automatic settings if you need to without interrupting the daily or weekly programming.
The 
Lancaster Furnace & Air Conditioning

Experience
Whether you need a new system installation, a repair, or want a qualified technician for preventative maintenance, we at Lancaster Furnace & Air Conditioning strive to make the whole process — from the first call to our technicians leaving your home — a fast and positive experience you'll tell your friends and family members about. We strive to provide experiences that you'll leave a 5-star review about!
When you call us, a friendly, courteous customer service representative will answer and work with you to schedule services. Our service technician(s) will call you prior to your appointment to confirm their ETA. We'll be respectful and clean upon entering your home. Upon service completion, we'll go over everything with you and answer any questions. We won't leave until the job is done with 100% satisfaction.