Heat Pump Maintenance Services in Lancaster, OH
Heat Pump Maintenance

 Done Right.
Despite enduring Ohio's most extreme weather, our heat pumps perform for us year-round, year in and year out. Whether it's another bone-chilling cold winter here in Lancaster or another summer of sweltering heat, we rely on our heat pumps for comfort in both seasons. So, to ensure this dual system maintains its optimal performance capacity while saving us money in heating and cooling costs and prolonging its lifespan, there is simply no substitute for preventative maintenance performed by a local reputable HVAC technician. Schedule maintenance for your heat pump today!
Heat Pump Maintenance Quick Guide

Benefits of Heat Pump Maintenance

Heat Pump Troubleshooting


Scheduled Maintenance Agreement
Benefits of
Heat Pump Maintenance
Heat pumps are like central air conditioning systems in a lot of ways. Not only do they look very much alike, but they also need air flowing freely through coils both inside and out. Taking steps to guarantee your heat pump is cared for with regular maintenance helps you prevent inconvenient and expensive breakdowns, higher heating costs and repair bills. Moreover, Heat Pump Maintenance is also an excellent way to:

Increase unit's lifespan
Because these systems are so expensive to replace, maintenance should be a staple in any home improvement plan. Maintenance prolongs the useful lifespan of the system, enabling it to perform at its best, which also reduces energy costs.

Avoid unexpected breakdowns
When a professional inspects your heat pump as scheduled, you'll never run into surprise repairs. Often times, these issues will be found during a tune-up. 

Decrease wear and tear on the parts
Having a professional clean your coils and replace the air filters promotes free airflow, which prevents wear and tear that could raise energy costs and reduce the heat pump's lifespan;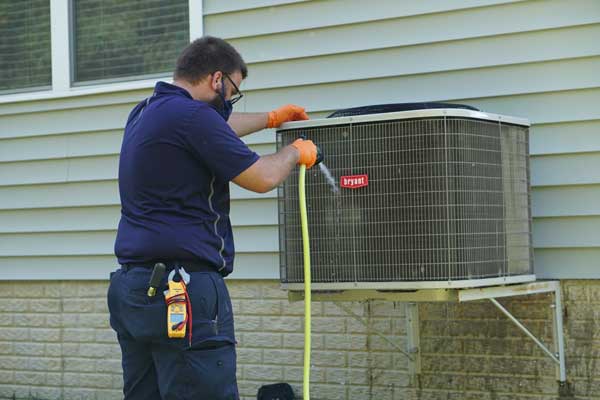 Heat Pump
Troubleshooting
If your heat pump is giving you trouble, there are a few things you can check before calling us. First, check if the thermostat is on and set to 'heat'. If it is already on the heat mode, adjust the temperature upwards by 4 degrees, and then switch the fan on.
If the fan isn't working, check the fuse and circuit breakers as they may need replacing. If they look alright, your wiring may be the problem so call in an electrician to repair that. On the other hand, if your fan works it is bringing in cold air, see if warm air is coming from the vents when you put the thermostat to emergency heat. This could mean that your outdoor unit has a problem. However, if the air isn't warm, the thermostat may be the cause.
When in doubt as to what the problem is, always call in a certified technician from Lancaster Furnace & Air Conditioning to identify and handle your heat pump problems safely and effectively.
Heat Pump

vs. Furnace: What's The Difference?
In the cold months, a furnace—electric or gas—heats your home through a heating cycle. Forced air passes through a gas-fired or electric burner and is dispensed throughout the building. Heat pumps harness renewable energy from the air or ground, concentrate the heat energy in a heat exchanger, and distribute it through the home or business. In warm weather, a furnace is idle and homeowners rely on a separate air conditioner unit. Heat pump owners reverse the setting on their heat pumps to cool their homes, eliminating the need for a separate AC appliance. Additionally, by removing hot, muggy air from your home in the summer, heat pumps assist with humidity control, reducing your need for dehumidifiers.